The Best Slow Cooker Vindaloo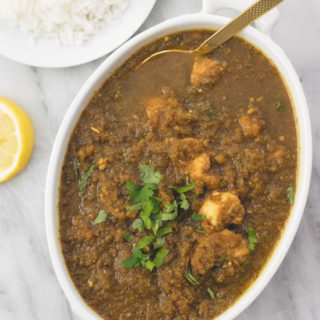 Dry Spice Mix:
2 dry red chilies (or ½ tsp red chili flakes)
1 tbsp coriander seeds
1 tbsp cumin seeds
½ tsp seeds from black cardamom
5 cloves
10 black peppercorns
½ tsp turmeric powder
½ tsp green chili paste or as per taste
2 tbsp red wine vinegar
1 tbsp brown sugar
1 tsp tamarind paste or red wine vinegar
1 tsp garlic paste
½ tsp ginger paste
Other:
1 tsp ghee
1 onion, chopped
2 tomatoes, chopped
Red chili powder as per taste
Salt as per taste
½ tsp mustard seeds
In a small pan, add first 6 ingredients listed under dry spice mix and dry roast them until fragrant. Add them to a spice grinder along with the rest of the ingredients under dry spice mix and grind until smooth paste forms.
Now in a blender, blend tomatoes and onion.
Heat slow cooker by covering the lid for 30 minutes at high setting. Add tsp of ghee to the cooking vessel in slow cooker. Add mustard seeds. As they start to pop, add tomato + onion paste along with spice paste we made earlier. Mix and add 1 cup water. Cover and cook gravy on high for 1:30 minutes.
Add chopped pieces of protein of your choice. If using a hard cut of meat such as beaf or pork, I would suggest adding it initially along with the gravy mix so it keeps cooking as it will take longer to cook as compared to chicken.
I used chicken and added it after cooking gravy for 1:30 minutes and cooked covered at high for another 2 hours.
Taste and adjust spices as per taste. Sometimes I like to remove the cooked chicken pieces and using hand blender puree the gravy for smooth texture.
Serve with naan.
Recipe by
Naive Cook Cooks
at https://www.naivecookcooks.com/the-best-slow-cooker-vindaloo/