CHEESY SPINACH LASAGNA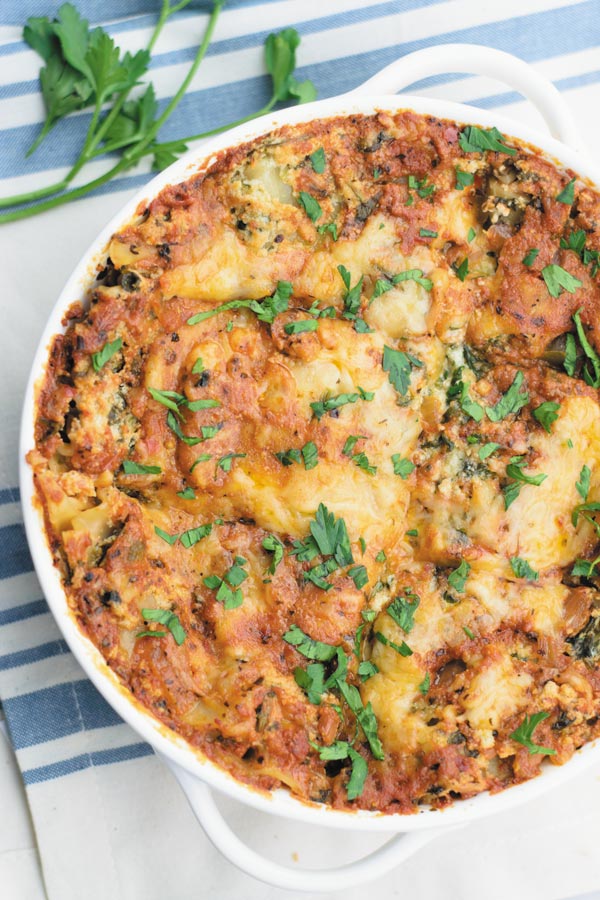 1 jar Reggano tomato, onion & garlic pasta sauce (24 oz)
Salt to taste
1-2 tsp red chili flakes (adjust according to taste)
1.5 tsp Stonemill basil powder
¼ tsp Stonemill black pepper
½ tsp Stonemill oregano powder
Pinch sugar (optional)
Other:
4-5 Reggano oven ready lasagna noodles (it will depend on what size dish you are using)
¾ cup Happy Farms Preferred ricotta ( I used part skim)
½ cup SimplyNature baby spinach, finely chopped (if using frozen just thaw and use. If using fresh, blanch for few minutes in boiling water, squeeze out all the water and chop fine and mix)
¼ cup Priano shredded parmesan
Salt & black pepper to taste
½ cup shredded SimplyNature mozzarella cheese
*If you want, you can first saute some finely chopped bell peppers in little oil and then mix the sauce in and continue.
*I had lot of leftover sauce which I usually store in airtight container and freeze.
**I used a small round dish for making which made enough lasagna for us two hungry souls but if you are doing a bigger dish, just double or triple the recipe as needed.
Mix all the sauce ingredients and give it a boil. Keep it aside.
Meanwhile mix ricotta with spinach, parmesan, salt and pepper and mix. Taste.
Now assemble.
Preheat oven to 375F.
In a baking pan, first add sauce and cover it with it. Now lay the noodles to cover all the surface. Now add ⅓ ricotta mix and gently spread it around. Add mozzarella cheese. Add sauce and repeat these layers two more times. Cover the top with good amount of sauce and cheese. If you feel your sauce is on the thicker side, add 2 tbsp water on top of the lasagna.
Cover tightly with aluminum foil and bake for 45 minutes.
Uncover and bake for another 10 minutes. Broil for a minute or so and let it sit on counter for few minutes before serving.