Crockpot Red Lentils Recipe With Crispy Onions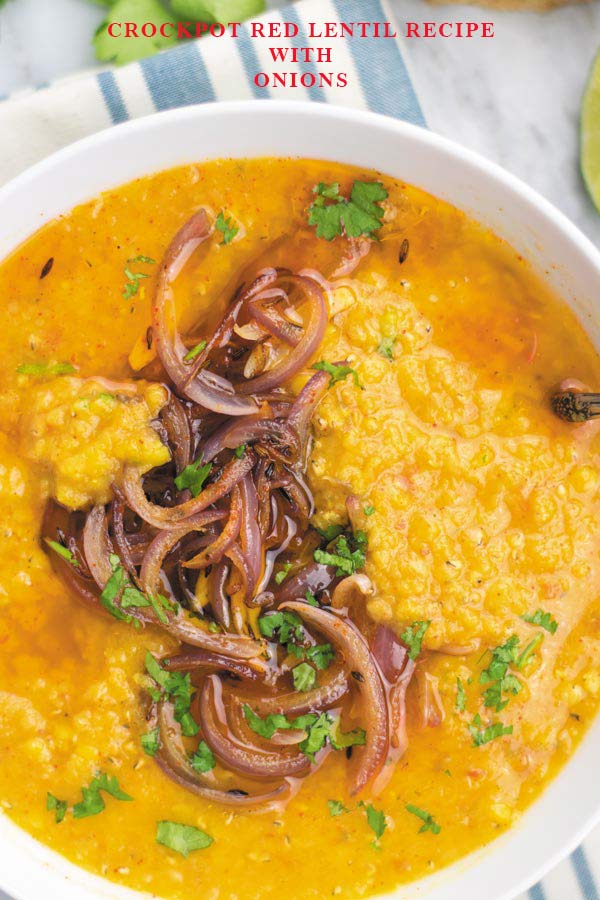 1 cup red lentils, rinsed
½ cup tomato puree ( canned or if using fresh tomatoes I used 1.5 roma tomatoes)
4.5 cups water
Salt to taste
1 tsp turmeric powder
1-2 tsp red chili powder or as per taste
½ tbsp garlic paste
¼ tbsp ginger paste
½ red onion, sliced thin
4-5 tbsp oil
1 tsp cumin seeds
4 garlic cloves
½ tsp red chili powder
Finely chopped fresh cilantro
Lime juice
Steamed rice or naan for serving
Add all the ingredients under crockpot red lentils recipe in slow cooker and cover. Turn on the slow cooker on high for 3-4 hours or low for 7-8 hours.
Once lentils are completely cooked and mushy, taste and adjust salt.
Transfer the lentils to a pot.
Heat oil in a small deep pot. Once hot, add cumin seeds and wait until they start to pop. Be careful as they might sometimes pop out of the pot. Once they start to pop, add sliced onions and chopped garlic and saute for 5-7 minutes until onion and garlic is cooked and raw smell is gone.
Turn off the gas and add red chili powder to this hot mix and stir. Immediately add this tempering to lentils.
Mix and bring tempered lentils to boil.
Taste and add freshly chopped cilantro .
Serve with good squeeze of lime over rice or with naan!
Ami says:
Leftovers stay good stored in sealed container in fridge for 2-3 days! They are great for lunch or dinner! Since lentils have tendency to absorb water, when you heat it up make sure to add little water and adjust salt as per taste!
Recipe by
Naive Cook Cooks
at https://www.naivecookcooks.com/crockpot-red-lentils-recipe-with-onions-instant-pot-version-also-included/