Slow Cooker Chana Masala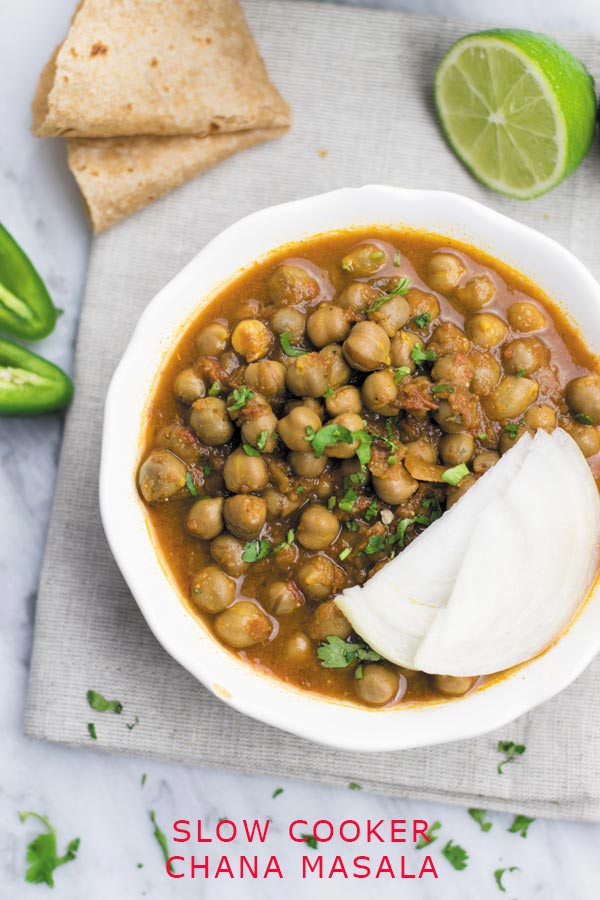 2 tbsp oil
½ tsp cumin seeds
2 bay leaves
4 cloves
½ cup chopped onions, made into paste
4 tomatoes, made into paste
1 15oz can chickpeas, drained and rinsed in water
Salt to taste
2 tsp ginger paste
1 tsp garlic paste
1 tbsp coriander powder
1 tsp red chili powder
2 cups water
1 tsp garam masala
In a pot, add oil. Once hot , add cumin seeds. Once they splutter, add bay leaf and cloves. Once they start to get fragrant, add onion paste and saute for few minutes. Turn off the heat.
Now add this mixture in slow cooker along with tomato puree, chickpeas, salt, ginger paste, garlic paste, coriander powder, red chili powder and water. Turn the slow cooker to high, cover and set it for 5-6 hours.
Once done and ready, add garam masala. Stir and taste and adjust seasoning as per taste.
Garnish with some finely chopped coriander and serve.