Avocado Lemon Cake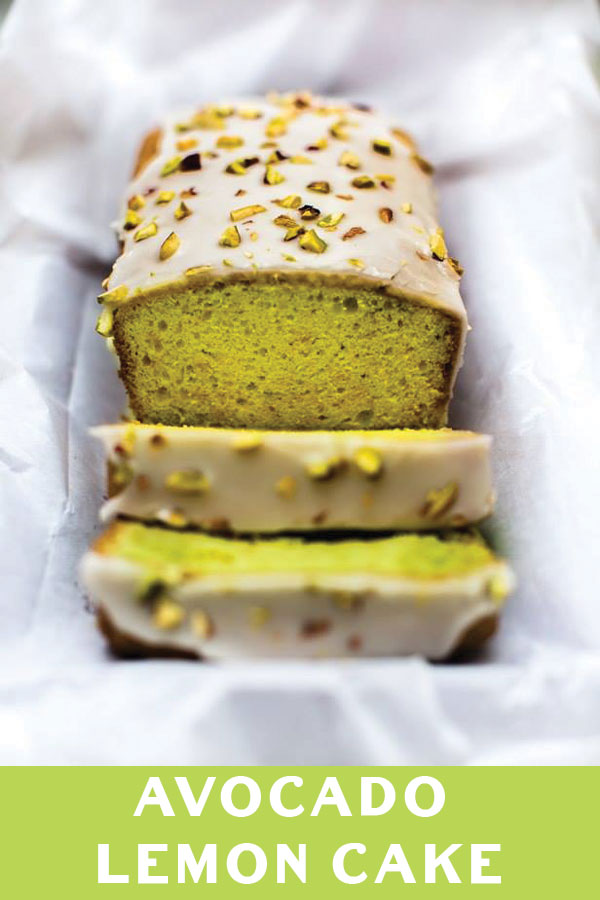 1 cup sugar
4 eggs
1 cup ripe avocado (about 1 ½ avocados)
2 cups all purpose flour
1.5 tsp baking powder
1 tbsp lemon juice
1 cup icing sugar
Few pistachios to garnish (you can use other nuts too)
Preheat oven to 170 ºC (~338 F) and grease a loaf tin.
Beat eggs and sugar together with an electric beater until light, fluffy and doubled in volume for about 5 minutes.
Take another bowl and mash avocado well so that it is smooth and silky.
Sift the flour and baking powder and add together with the mashed avocado in the sugar egg mixture. Fold gently, scraping down the sides of the bowl to mix thoroughly.
Pour into the loaf tin, even out the surface and bake in the oven for 40-45 minutes. Insert a skewer/knife into the center and if it comes out clean, then the cake is done.
Allow to cool completely before taking out of the loaf tin.
Pour icing when completely cool.
Mix together the icing sugar and lemon juice until you have a firm but smooth icing.
Use a knife to smear onto the top of the cake and sprinkle over crushed pistachios.