Cheesecake Factory's Louisiana Chicken Pasta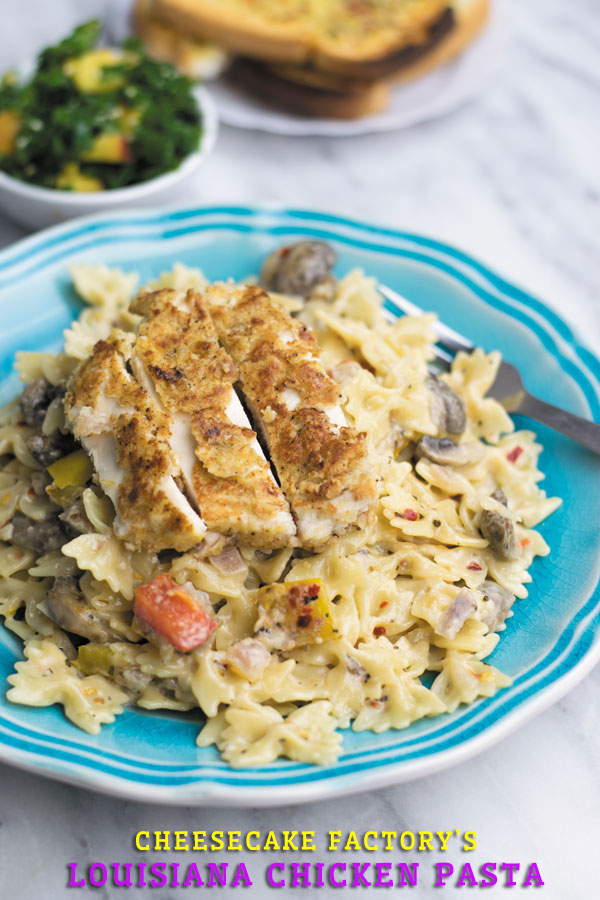 1 lb pasta of your choice (Fir this I like to use mini farfalle)
Salt to taste
1 tsp oil
2 tsp oil
1 tbsp garlic paste
1 cup chopped red onion
¼ red bell pepper, chopped
¼ yellow bell pepper,chopped
8 oz white button mushrooms, chopped
Salt & Black pepper to taste
1.5 tsp basil powder
2 tsp red chili flakes
2.5 cups heavy cream
½ cup water or stock
1 tsp red chili powder or paprika
2 cups shredded parmesan cheese
Boil pasta as per package directions. Once it's completely cooked, strain the pasta and rinse under running cold water to stop further cooking. Add 1 tsp oil to the pasta and stir it around so it doesn't stick.
In a pot, add oil. Once warm add garlic paste and saute for few seconds. To it add chopped onions, both bell peppers and mushrooms and saute for 4-6 minutes until cooked but still crisp. Add salt, chili flakes, water, heavy cream, parmesan and basil. Cook for few minutes until the sauce starts to thicken. Add pasta to this thick sauce and move it around so all the pasta is coated with sauce. Taste and adjust seasoning if need to as per your taste.
Meanwhile while you are making your pasta sauce make breaded chicken cutlets as described here.
Sprinkle red chili powder or paprika over the pasta and serve hot along with chicken cutlets!
Recipe by
Naive Cook Cooks
at https://www.naivecookcooks.com/cheesecake-factorys-louisiana-chicken-pasta/