Veggie Hawaiian Pizza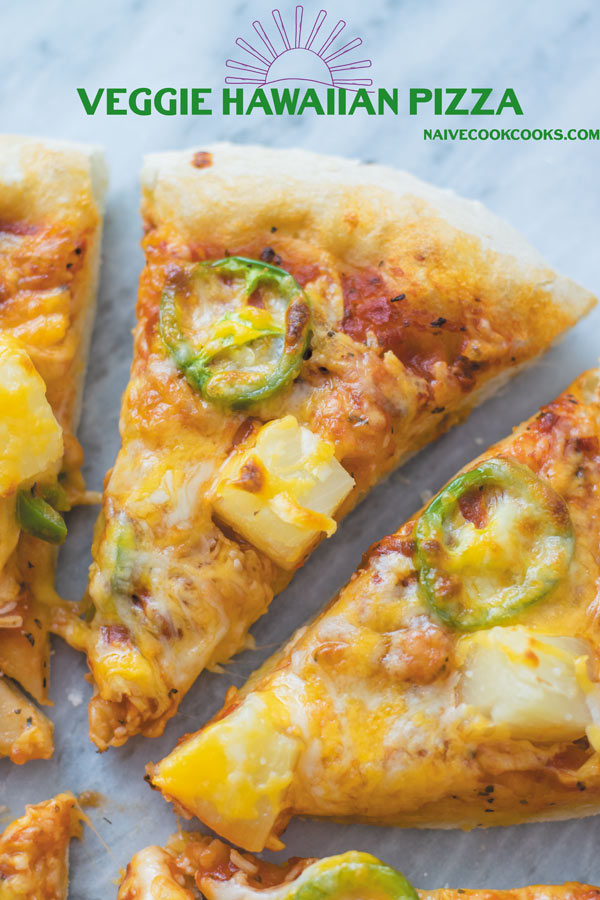 Pizza sauce (homemade or store bought)
1 cup shredded cheese (I like to use a mix of mozzarella and cheddar cheese)
1 can pineapple chunks or you can use fresh pineapple, chopped in small pieces (about 1 cup)
2 jalapenos, chopped or sliced
Follow the recipe to make pizza crust recipe. Out of 1 pizza crust recipe, you can make 2 large pizza crusts or 3 medium pizza crusts.
Roll one pizza dough at a time. Transfer it to a floured parchment paper. Poke holes all around just leaving 1" edge. Spread pizza sauce all over the pizza. Top it with some shredded cheese, then pineapple chunks, jalapeno pieces and then more cheese.
Bake in a 500F preheated oven for 9-11 minutes until you start to see cheese bubbling and edges goldenish.
Cut using a pizza cutter and enjoy immediately!