Easy Moist Chocolate Marble Cake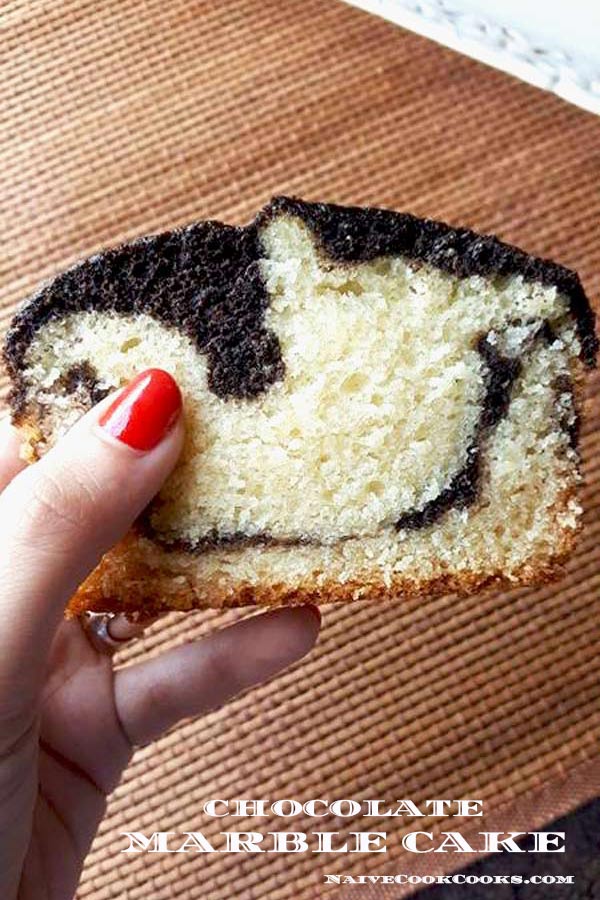 1.5 cups All Purpose Flour (Maida)
¾ cup Castor Sugar
1 cup Yogurt
½ tsp Baking Soda
1 tsp Baking powder
1 tsp Vanilla essence/extract
½ Cup Neutral oil/Butter (If using butter then melted butter)
3 tbsp Cocoa powder
Preheat oven to 180 C. Grease a loaf pan (or any other pan you have) with some butter and dust with some flour.
In a large bowl beat the yoghurt for 1-2 minutes until smooth. Add sugar and mix until dissolved. This is an essential step, do not skip it. Add the baking powder and baking soda to it. Mix well until mixture turns frothy.
Add oil/softened butter and vanilla. Mix just until all the ingredients are combined. Now add the flour and fold in gently until it is incorporated and there are no lumps.
Remove about 3-4 tablespoon batter in a separate bowl and add cocoa powder and mix well.
Pour half the vanilla batter in the pan. Drop half of the chocolate batter on top of the vanilla batter in spoonfuls. Use a knife or a skewer to swirl it around. Add the rest of the vanilla batter on top. Add the remaining chocolate batter and swirl gently only on top, don't go too deep. There is no rule for this, alternate the batter as much or as little as you would like.
Bake in the oven for 35-40 minutes until the looks firm and a tooth pick inserted into the centre of the cake comes out clean. Remove the pan from the oven and let the cake cool in the pan for 20 minutes. Run a knife on the sides of the pan and invert the cake on a cooling rack. Let it cool completely before slicing.
Recipe by
Naive Cook Cooks
at https://www.naivecookcooks.com/easy-moist-chocolate-marble-cake/