Homemade Paneer Garlic Naan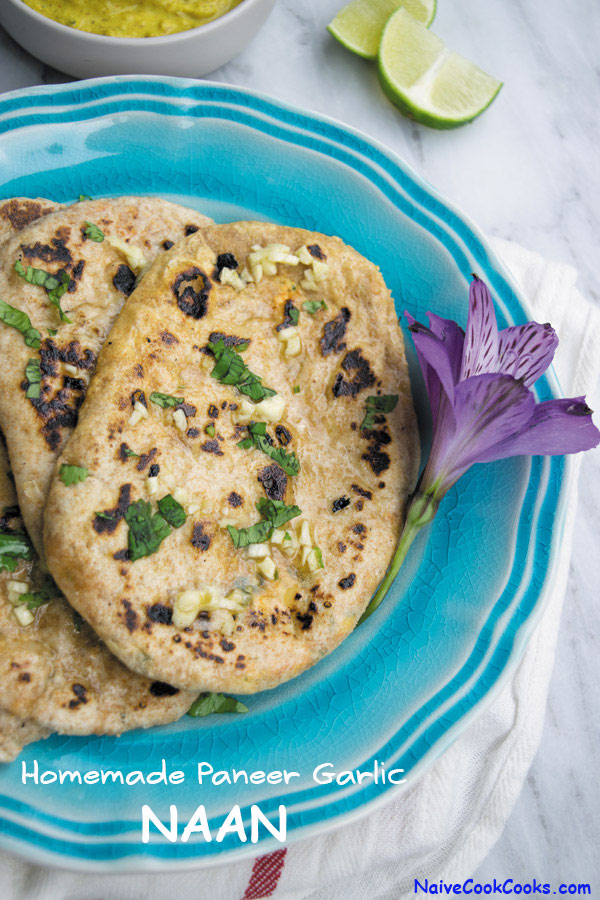 Serves:
8-20 medium size naans
For Naan ->
1 cup all purpose flour
1 cup whole wheat flour
2+1/4 tsp yeast
½ cup warm milk (any fat content)
4-5 tbsp yogurt
Salt to taste
1 tsp sugar
2 tsp olive oil
Paneer stuffing ->>
1.5 cup shredded paneer ( or in place use shredded mozzarella)
Salt to taste
½ tsp red chili powder
3 tbsp finely chopped cilantro
Garlic oil ->>
4 tbsp olive oil
4 garlic cloves, finely chopped or minced to paste
Salt to taste
Make the garlic oil by mixing everything in a bowl and let it sit covered.
Make the dough for naan.
Making homemade naan is really simple. Usually naan is made using all purpose flour only but I mixed whole wheat also to make them a little bit more healthier! So take both flours in a bowl. To it add salt and sugar. Warm half a cup of milk and add yeast to it. Let it sit for 5 mins. Add this milk to flour mix and mix. Add yogurt and oil. Mix it all up till it all comes together. Transfer it to a deep bowl as it will become 2-3 times of its size. Cover it and keep it in a warm place for 3-4 hours.
Meanwhile make stuffing. In a bowl add shredded paneer or mozzarella and the rest of the ingredients. Taste and adjust as per your taste. Keep it aside.
Before rolling, knead the flour for few minutes and use flour if too sticky. Break it into small balls. Sprinkle the working surface with flour and roll them in small circular shape. Place few tbsps of shredded paneer stuffing (see how to make this stuffing in recipe box). Close it from all sides sort of how you do while making a stuffed bun or bao or kachori. Cover them with flour on both sides and then roll gently in elongated shapes or as desired. Brush one side with water. Take a heavy bottom skillet with a lid. On nicely warm skillet surface, place the wet side and cover. Let it cook for like 30-40 seconds and then flip. Cover and let it cook for 40 seconds more. See if it has brown spots which shows that it is cooked but not burnt. Smear with freshly made garlic oil.
Ami says :
Adapted naan recipe from
THIS
.
Recipe by
Naive Cook Cooks
at https://www.naivecookcooks.com/homemade-paneer-garlic-naan/