No Bake Honey Cocoa Energy Bites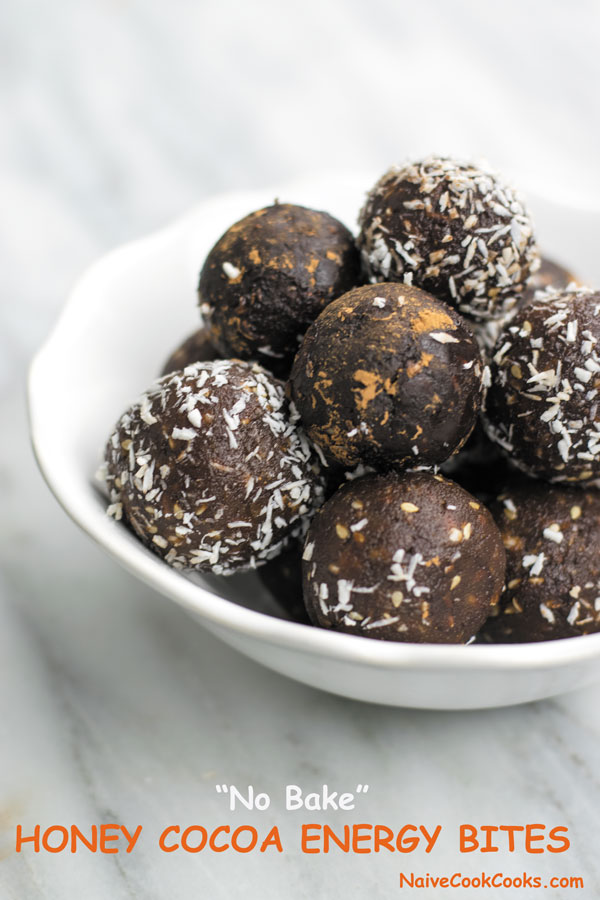 ⅓ cup split red lentils (easily available almost everywhere) (After boiling and completely drying you will end up with around 1 cup cooked lentils)
½ cup honey
15 tbsp ( ¾ cup + 3 tbsp) smooth creamy peanut butter
2.75 Tbsp cocoa powder
⅛ tsp salt
2.5 Tbsp sesame seeds
5 Tbsp unsweetened shredded coconut
Extra unsweetened shredded coconut, extra cocoa powder and extra sesame seeds for garnishing
Take lentils and rinse until water runs clear. Transfer them to a pot and add water to cover the lentils and bring them to boil. Cook until completely softened. Transfer them to a strainer and get rid of all the water. Then lay them on a paper towel and place another paper towel on top and absorb as much water as possible. You can even squeeze water by hand from the lentils.
Transfer them to a blender and add honey and blend until you get a smooth liquid consistency paste. Add peanut butter and blend again. You will get a thick dough.
Transfer it to a bowl and add the remaining ingredients and mix. Cover and chill in fridge for 2-3 hours or in freezer for upto an hour and then roll into small balls. I ended up getting almost 18-20 balls.
Coat them in coconut or sesame seeds or cocoa powder if you wish and then store in airtight container and store in fridge for upto 2 weeks!
Recipe for these energy bites was provided by
Canadian Lentils
and then I modified it as per my taste!
Recipe by
Naive Cook Cooks
at https://www.naivecookcooks.com/no-bake-honey-cocoa-energy-bites/