Crispy Cheesy Garlic Smashed Potatoes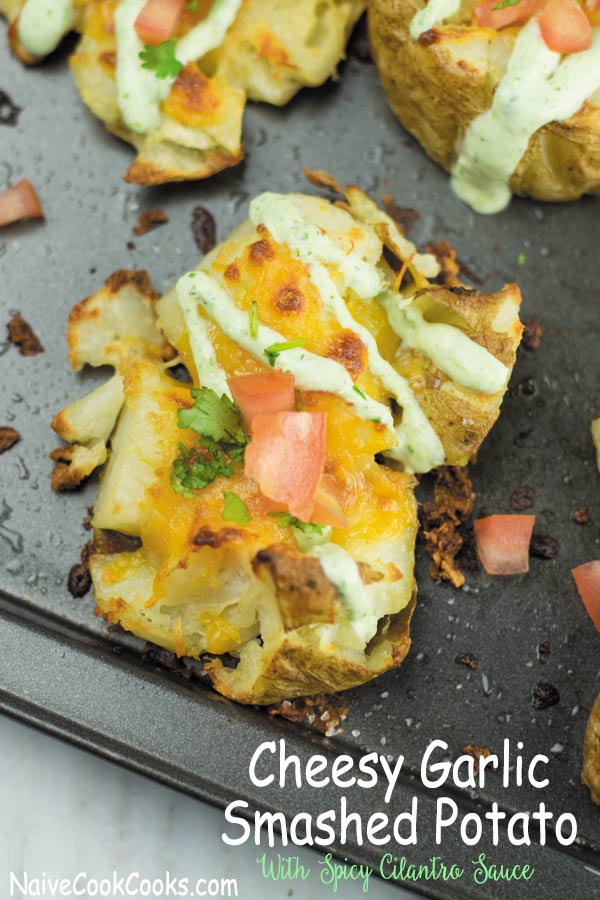 4 - 5 fresh potatoes, cleaned
Salt to taste
1 tbsp garlic paste
4 tbsp olive oil plus extra for greasing the baking sheet
½ cup shredded cheese
Spicy cilantro Sauce
½ cup tightly packed cilantro
4-6 tbsp sour cream
½ jalapeno or as per taste
Salt to taste
Lime juice to taste
Water to thin out the sauce
Pre heat oven to 420F.
Clean potatoes and poke holes in potatoes using knife or fork. Boil until fork tender.
Grease a baking sheet with oil and place boiled potatoes. Smash potatoes and sprinkle generously with salt. In a small bowl mix garlic paste and 4 tbsp olive oil and rub this garlic oil on top of smashed potatoes.
Bake for 30 minutes.
Meanwhile place all the ingredient of sauce in a blender and blend until smooth. Taste and adjust as per your taste.
When potatoes are done, sprinkle them with cheese and bake for another 10 minutes. Then increase oven setting to broil and broil them for 5-7 mins until cheese is browned and bubbly.
Once ready drizzle with spicy sauce and serve immediately!
Great as a side dish with any meal.
Recipe by
Naive Cook Cooks
at https://www.naivecookcooks.com/crispy-cheesy-garlic-smashed-potatoes/