Simple Pineapple Upside Down Cake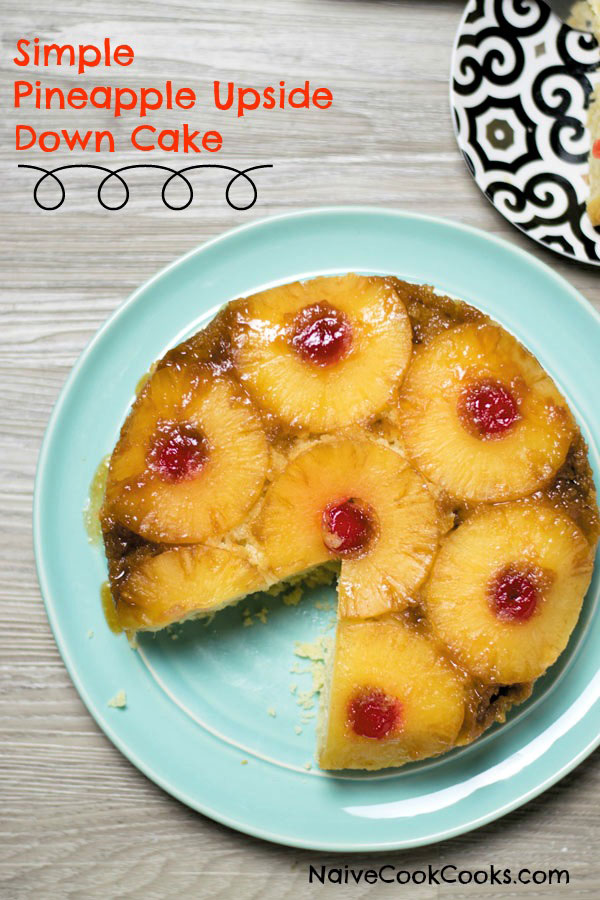 Bottom layer :
5 Tbsp melted butter + extra for buttering sides of the pan
½ cup + 2 Tbsp brown sugar
6-7 pineapple slices ( I used canned but you can use fresh also)
Few Maraschino cherries (optional)
Cake Batter :
(1 + ⅔) cups All Purpose Flour
½ tsp baking powder
¼ tsp baking soda
½ tsp salt
8 tbsp unsalted butter, melted
1 cup granulated white sugar
2 tbsp oil
1 whole egg
6 Tbsp yogurt (I used low fat but you can even use full fat)
6 tbsp milk (I used 2% but you can even use 1% or full fat)
4 tbsp reduced pineapple syrup (The syrup you get from the can in which you have pineapple slices, transfer it to a pot and reduce it to half)**
2 tsp pure vanilla extract
Bottom Layer:
In a pot, melt butter & brown sugar for bottom layer. Add it in the pan and make sure to spread it evenly. Now use some more melted butter and butter the sides of the pan.
Now layer pineapple slices and cherries. Keep it aside.
Cake Batter:
In a deep bowl, using a hand mixer or stand mixer, mix sugar, melted butter and oil. To it add egg, yogurt, vanilla, milk and reduced pineapple juice.**
Mix until smooth.
Now add salt, flour, baking soda & baking powder and mix until smooth.
Pour this batter over the fruit layer in baking pan and bake at 350F for 20 mins. At 20 minutes, cover the pan with aluminium foil and bake for another 24-26 minutes or until a toothpick inserted in the center comes out clean!
Let it cool for 10-20 minutes in the baking pan on your counter. Run a knife around the cake edges so it comes out smoothly. Place a plate over it and flip it at once to transfer it to a plate.
My first time I had it all come out with every single pineapple piece intact but second time the center pineapple piece got stuck to the pan after I pulled out the cake. So don't fret, just take it out and place it over the cake! No one will ever know!
Recipe by
Naive Cook Cooks
at https://www.naivecookcooks.com/simple-pineapple-upside-down-cake-recipe/