Strawberry Vanilla Panna Cotta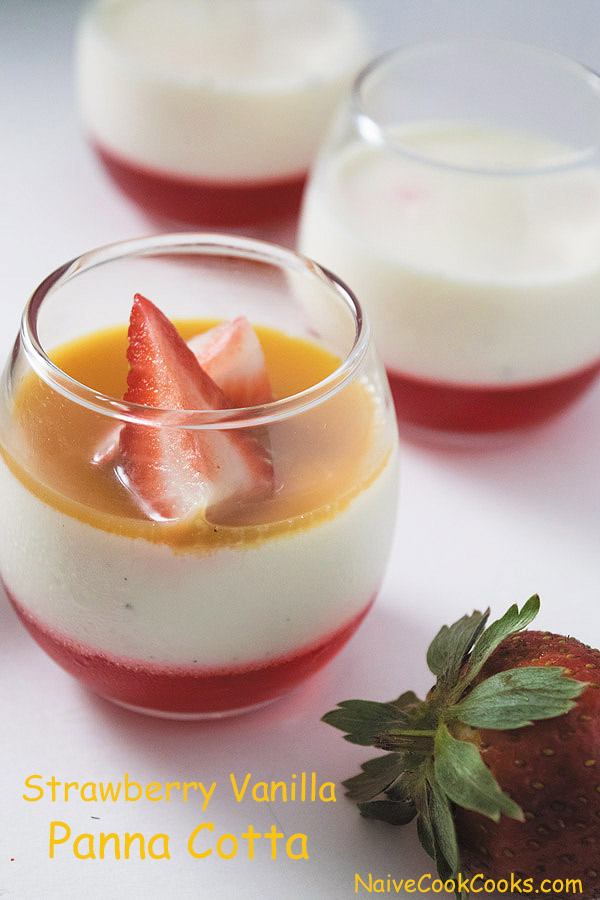 Vanilla Panna Cotta :
1 cup heavy cream
5 tbsp condensed milk
½ tbsp gelatin
1 tbsp milk
1 vanilla bean or 1-2 tsp vanilla extract
Strawberry Jelly
1 packet of strawberry jello
Caramel syrup and chopped strawberries for garnishing
Strawberry Jello :
Make jello as per package directions.
Pour it either in indivisual ramekins or one big pot and let it chill for 4-5 hours until completely set.
Vanilla Panna Cotta:
Make this once jello is set.
Warm up 1 tbsp milk and add ½ tbsp gelatin and stir. Keep aside.
In a pot heat heavy cream until you start to see little bubbles coming up on the side. Take it off heat and add condensed milk and gelatin mix. Put it back on stove and keep stirring for a minute or two until it's all completely mixed.
Now add vanilla bean paste from vanilla bean and mix.
Pour it into already set jello ramekins and chill again for another 4-5 hours.
Just before serving, add caramel sauce and chopped strawberries.
Recipe by
Naive Cook Cooks
at https://www.naivecookcooks.com/strawberry-vanilla-panna-cotta/