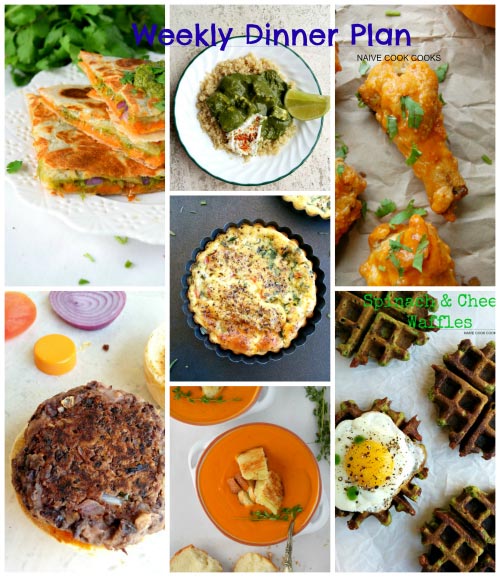 Hope you had a relaxing comforting weekend.
It snowed here, the roads were super icy so we just stayed home and chilled.  Friday night I was craving Torchy's Tacos so we reached there after driving so slow that it felt like we were on the road forever haha and ended up finding it closed. So we ended up at the closest cheesecake and let me tell you I had no idea what I wanted to eat. I mean I think since us food bloggers cook all day sometimes It feels like I have seen everything in the menu. That's why we avoid going to chain restaurants cause I feel most of the time it's same old same menu. Well enough of my boring life! In all it was a fun relaxing weekend. What about you guys?
We are almost on the verge of another week and can you believe it's already March? Man time has been flying lately and somedays I feel there's not enough hours in a day. So I got you covered for this week with some delicious and easy meals to make life little easier. These are great as leftovers too so they make a great lunch for the next day. So here my this week's weekly dinner plan :
MONDAY:
Delicious roasted sweet potatoes mashed and topped on a tortilla along with crunchy onions and creamy cilantro-yogurt chutney make for a really quick yet filling weeknight dinner.
TUESDAY:
https://www.naivecookcooks.com/black-bean-burgers-franks-hot-sauce-flavored/
These are my favorite burgers. I mean who doesn't love Frank's red hot sauce and if your veggie bean burger patties taste like them?! These bean burgers are moist and served over a homemade burger bun or store bought bun, these are a keeper. Even strict meat eaters won't mind!
WEDNESDAY:
How about doing breakfast for dinner? These savory multi grain waffles are packed with cheese and spinach. Served with a crispy fried egg they make for a satisfying and easy dinner.
THURSDAY:
https://www.naivecookcooks.com/low-fat-palak-paneer/
Love Indian food but always scared to give it a try at home? Well, don't be. This palak paneer (Indian cheese in spinach gravy) is healthy, packed with tons of flavors and comes together in no time. Leftovers taste great for lunch. Win-win.
FRIDAY:
https://www.naivecookcooks.com/baked-skinny-buffalo-chicken-wings/
Who doesn't love chicken wings? I love chicken wings but I always used to shy away from making them at home since frying! I mean I hate frying. But no more. These baked wings are so crispy that you won't even realize that these are baked and good for you! Perfect weekend treat.
SATURDAY:
Another of my favorite breakfast for dinner meals. Jerry is not much of a frittata person so when he goes on his business trips, this is my go to easy, quick dinner. Serve with some toasted bread or tortilla for a delicious healthy filling meal.
SUNDAY:
Ok this is my absolute favorite soup in the entire world! Creamy (with almost no cream!!) and so delicious and topped with grilled cheese croutons, I can eat bowls and bowls of it!
Hope these meals inspire you to cook better, tastier and healthier meals for you and your family! So get creative and start cooking!