Super crispy oven baked Cajun fries to kick off Fat Tuesday!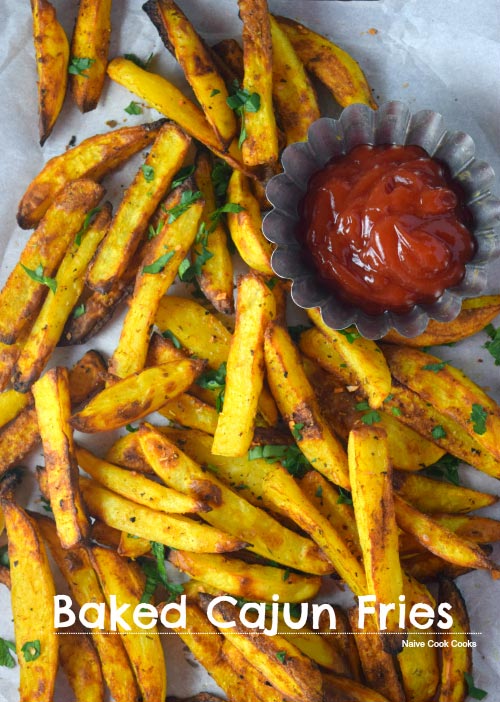 POTATO.FRIES.
That's what I woke up thinking today and since all over instagram it's Mardi Gras and I see people eating and drinking their hearts out as if that's their business, I don't want to be left behind!!
Yes that's the kind of love affair I share with food, I want to be part of every darn food thing happening around me if that's possible. So since this weekend was all about indulgence, trying out new restaurants, breakfast in bed, skinny taste's baked chicken parmesan (BEST EVER!), chocolate pudding pie (By the pioneer woman – my best chocolate pudding ever!) and yes among all this good food we ate in 2 days I had a major recipe fail with my diablo chicken pasta (though Jerry's sauce fixing skills saved our dinner!). So after all this eating you might think I would like to slow down but that's just not me!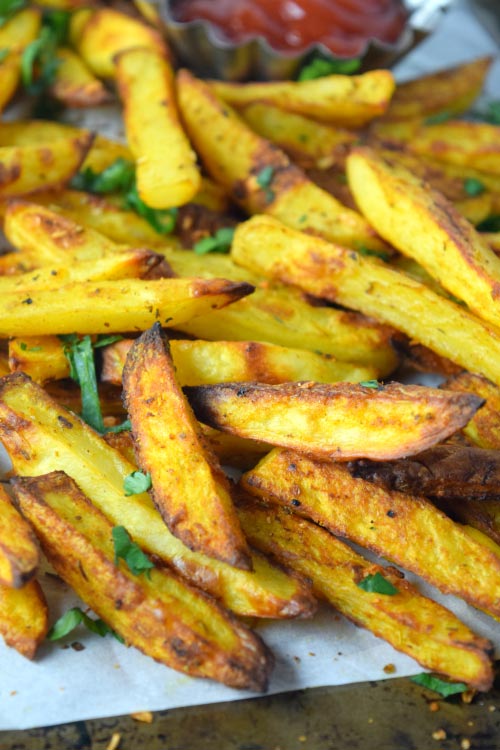 I had to make some sort of delicious Mardi Gras inspired food and what better than baked cajun flavored potato fries? Hey baking totally passes for being healthy. So you can without any guilt eat them for your breakfast, lunch or dinner. No judging!
Super crispy oven baked fries with delicious cajun flavors. Once my fries are fully cooked I like to coat them in little bit of olive oil and some more seasoning to give that final touch. These are so delicious that we enjoyed the leftovers by heating them on a hot skillet with little oil. Tasted just like fresh!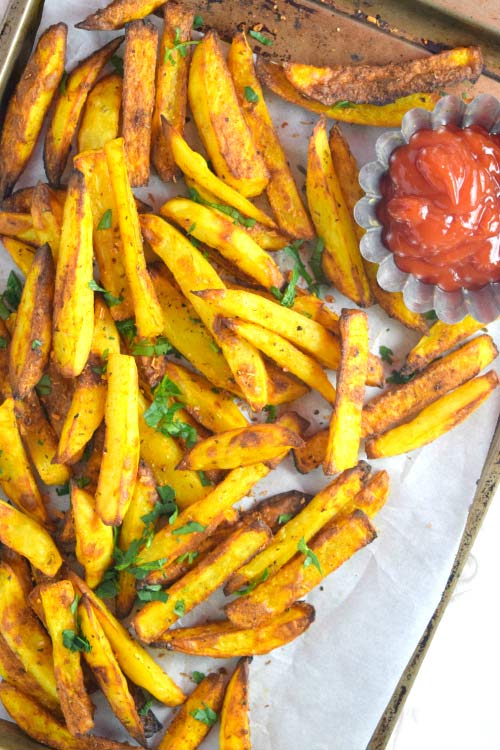 I know some of you have been asking about the right technique to bake as earlier even I used to end up with soggy fries almost all the time. But after making them quite a few times, I have learnt few things and here I would like to share those so you can have really crispy fries that are baked.
1. Always always try to cut your potatoes in same thickness to ensure even cooking.
2. Soak them in hot hot water for 15-30 minutes as it helps in getting rid of starch which in turn ensures they turn out super crispy.
3. Bake for good 20-30 minutes on one side and then using tongs or fork, slowly flip them and bake again for another 15-30 minutes depending on how crispy you want.
Just some really simple yet effective tips which will make a big difference!
How to Make Oven Baked Fries
Super crispy oven baked Cajun fries to kick off Fat Tuesday!
Ingredients
6 medium size russet potatoes
1 tbsp cajun seasoning
½ tsp black pepper
½ tsp garlic powder
½ tsp thyme
1 tsp oregano
½ tsp turmeric
salt to taste
1 tsp paprika
4-5 tbsp olive oil, divided
Instructions
Wash the potatoes, peel and cut them in almost equal size thickness.You can see the steps by step pictures underneath to give you an idea. I usually cut the potato in half lengthwise.Then I again cut the two halves in half lenthwise, thus ending with 4 pieces. Then I cut each piece in 3-4 long sticks.
Keep a hot water bowl nearby and keep adding the potatoes in there as it will help to remove starch thus ensuring crispy exterior of potatoes.
Let them sit in hot water for good 15-30 minutes. Rinse and wipe potatoes with clean paper towel. Now take a plastic bag or zip lock and add potatoes in there.
In another mix all the spices together.
Add half of the spice mix to the potatoes and add 3 tbsp oil. Seal the bag and toss them around so they get properly coated with the oil and spice mix.
Preheat oven to 400F.
Lay the potatoes in a single layer on a parchment paper lined baking sheet. Bake for good 20-25 minutes and then flip them around using tongs or spoon whatever is easy. Bake for another 15-25 minutes until you get the desired crispiness.
Transfer them to a bowl and add the remaining spice mix along with oil. Toss them around and serve immediately!
Here I have taken some step by step shots .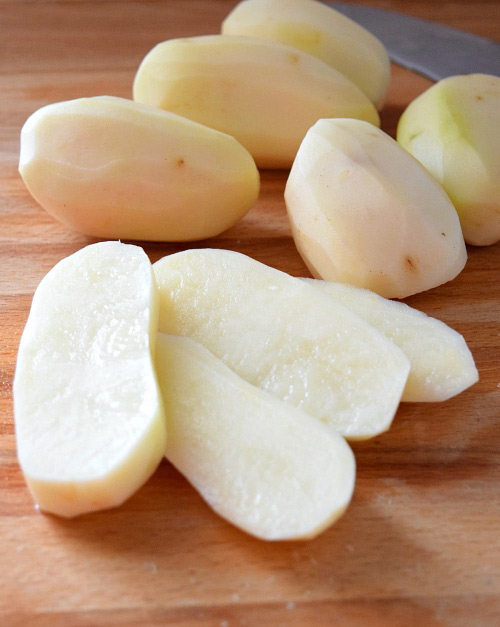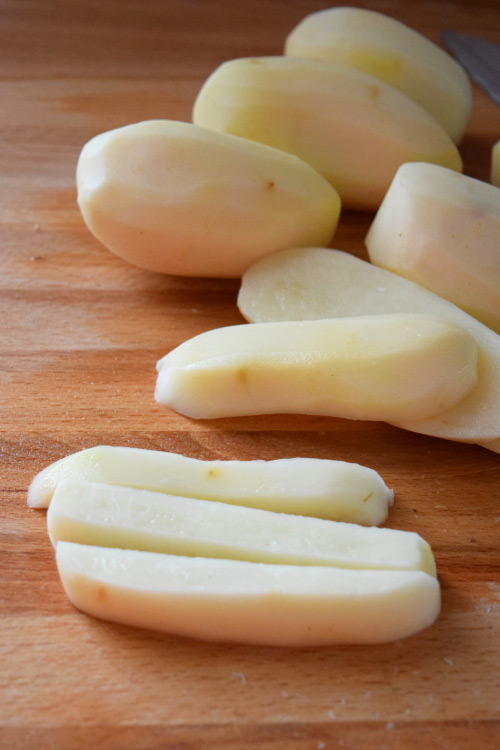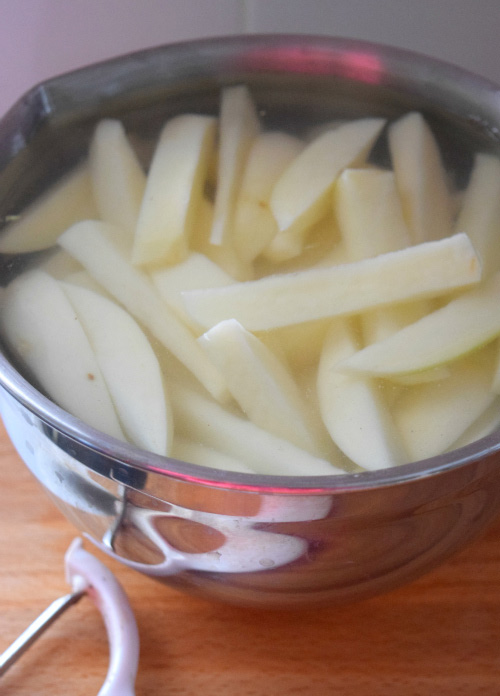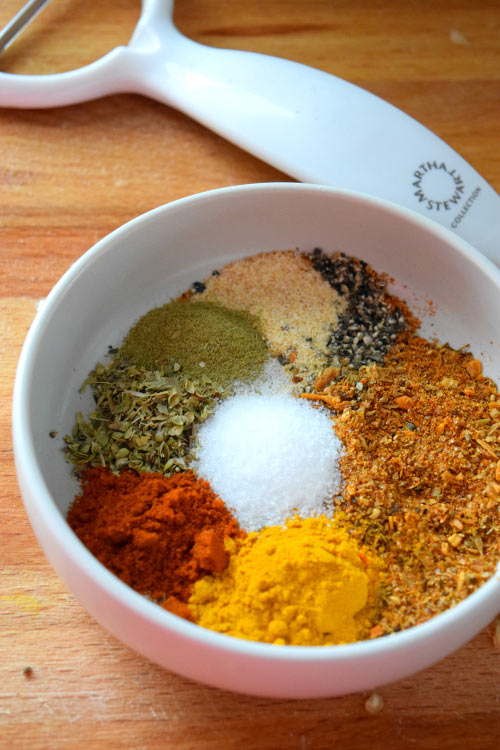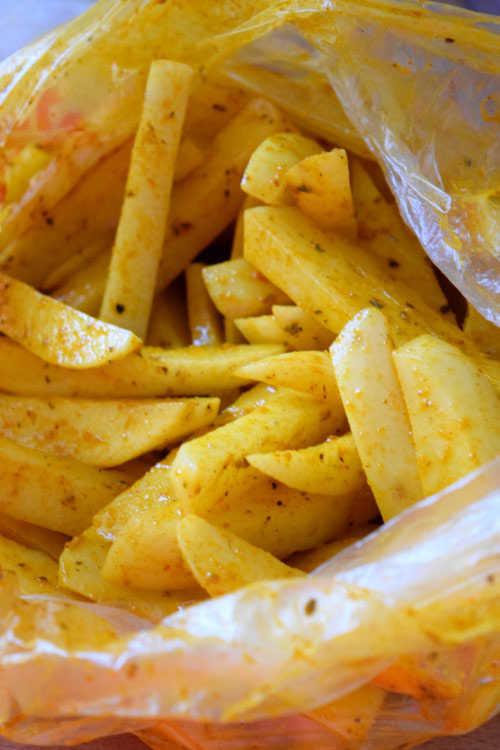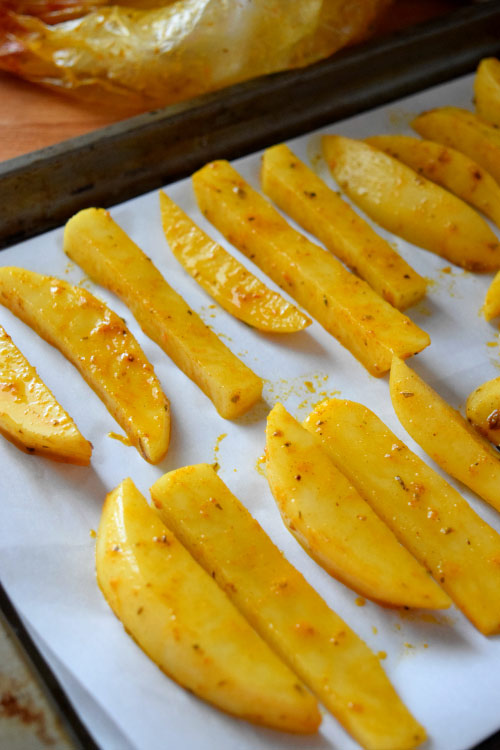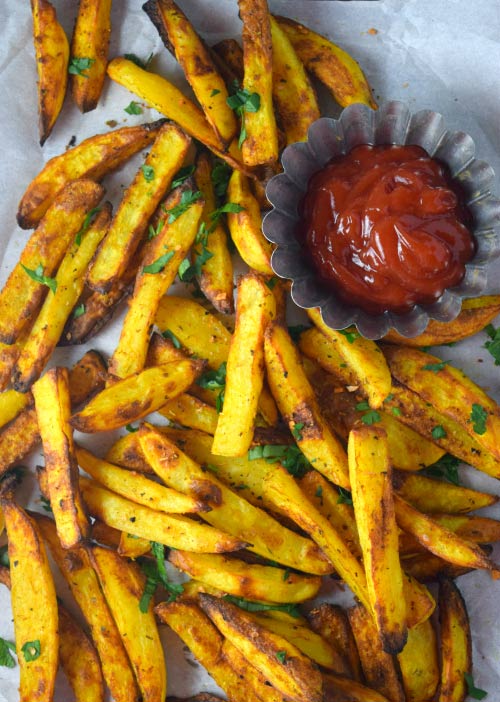 Here are some more Recipes:
https://www.naivecookcooks.com/nacho-fries/