Cheese Stuffed Cajun Turkey Burgers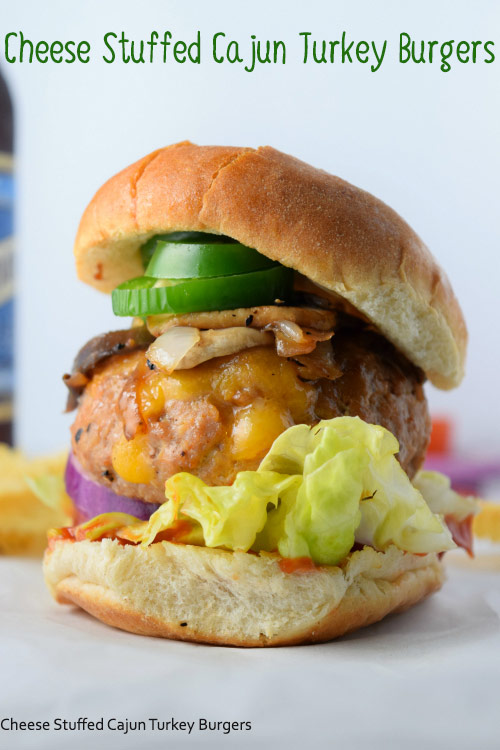 20 oz ground turkey
1 tsp salt
1 tsp black pepper
¾ tsp red chili powder or less if you prefer less kick
½ tsp paprika
1 tbsp cajun seasoning (these were a little on the spicier side so you can always use half of the cajun seasoning if you want mild taste)
1 cup shredded colby jack cheese
Oil for cooking
4 garlic cloves, chopped
8-10 white button mushrooms
salt & pepper to taste
1 tsp olive oil
In a bowl add ground turkey and salt, black pepper, red chili powder, paprika,cajun seasoning and mix using hands. But don't over work the meat or you won't get juicy burgers!
Now divide them into 4 patties. Roll one patty at a time and flatten it a little onto your hand and place good amount of cheese in the center. Now bring all the sides on top of the cheese and roll it in between your hands so all the cheese gets stuffed inside the meat. Flatten them out a bit and repeat with the rest.
Now in a pan, add 1 tsp oil. Once hot, add mushrooms with salt and pepper. Cook on medium slow until they are nicely cooked and sort of caramelised. Take them out and keep aside.
Now in the same pan, add some more oil and add garlic. Saute for fewm inutes until it becomes fragrant. We only need the garlic flavored oil to cook our patties. So discard the garlic while keeping the now garlic flavored oil in the pan only.
Now if you are cooking them on stove top, add the patties and cook evenly both sides until done.
If cooking on a grill, using a brush rub them with garlic flavored oil and cook as you would on your grill.
Just to be on the safe side, I like to insert my cooking thermometer and check if the center of the meat is around 170F.
Serve them warm with buns, ketchup, mayo, pickles, lettuce, onions, tomatoes, jalapenos (A must!!) and mushrooms and chilled beer!
Recipe by
Naive Cook Cooks
at https://www.naivecookcooks.com/cheese-stuffed-cajun-turkey-burgers/