Soft Fluffy Cinnamon Pancakes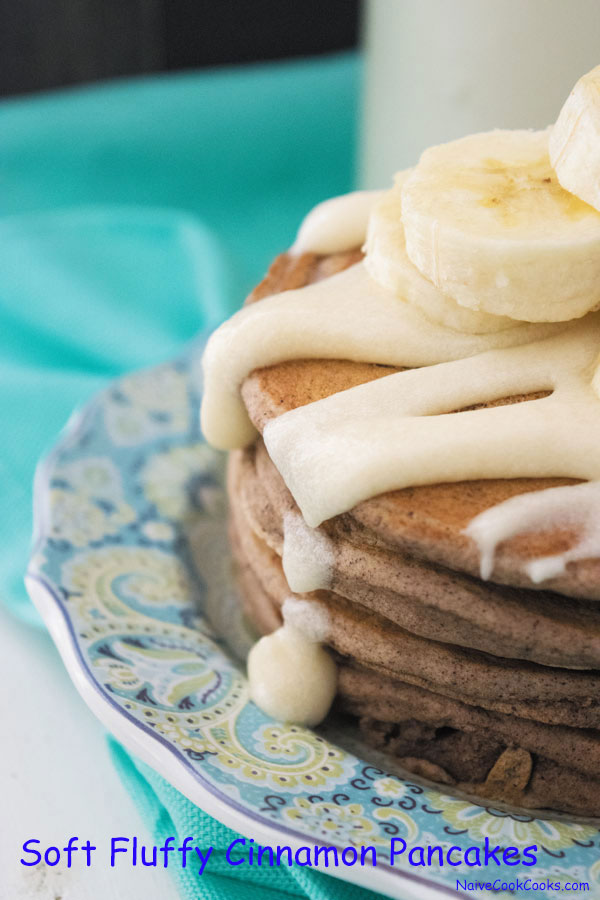 1¼ cups all purpose flour
1 tbsp baking powder
5 tbsp sugar
¼ tsp salt
1 tbsp cinnamon powder
Pinch of nutmeg powder
1 cup milk
2 tbsp oil
2 tbsp water
Oil for cooking
2 tbsp cream cheese, at room temperature
2 tbsp melted butter
½ tsp vanilla extract
½ + ¼ cups powdered sugar
3 tbsp milk or more/less depending on how thick/thin you want the glaze to be
In a bowl, mix all the dry ingredients for pancake. In another bowl mix wet ingredients. Add the wet ingredients to dry ingredients and mix until completely mixed and batter is smooth.
Heat a skillet. When hot, add a tsp of oil and spread it all over.
Add ¼ cup of batter in the center and cook on medium heat. Once bubble starts to appear, flip and cook for a minute or two.
Serve with cream cheese glaze!
Cream cheese glaze :
In a bowl mix butter and cream cheese using a hand blender until evenly mixed. To it add the rest of the ingredients and mix.
Ami says :
Cream cheese glaze can be made ahead and stored in fridge covered tightly.
Recipe by
Naive Cook Cooks
at https://www.naivecookcooks.com/soft-fluffy-cinnamon-pancakes/